Property Details
Albox, Almeria 04800
Offered at €450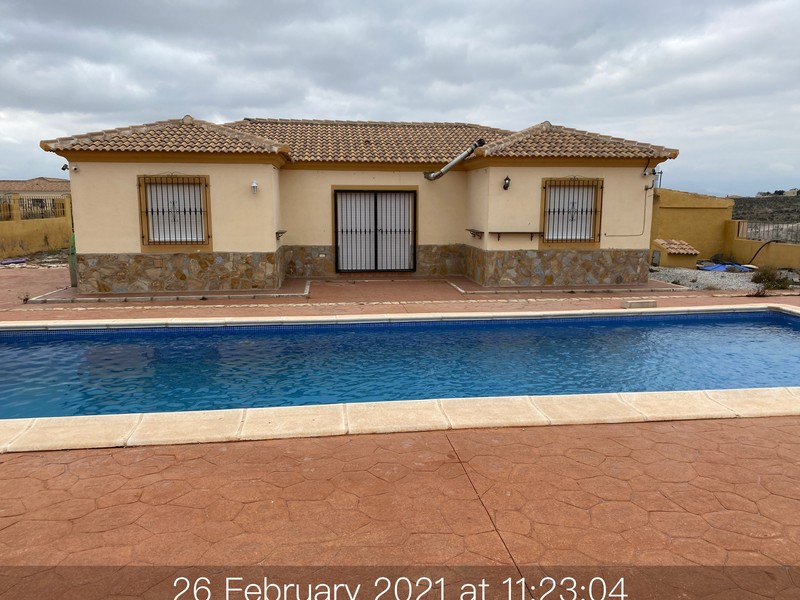 Listing Agent: Property Plus Almeria
Phone: +34 850 99 31 99
Status: Leased
Type of Property: Rental

Bedrooms: 3

Bathrooms: 2

Rental Properties Albox
Long Term Rental Property near Albox, 3 bedrooms, 2 Bathrooms, Swimming Pool, Large Gardens
This Villa offers a fantastic andulucian style villa sleeping up to 6 people with stunning mountain views overlooking orange groves. Large Private Pool.

Overview
This stunning contemporary villa overlooking olive and orange groves has unspoilt views. Outside the property boasts 2 terraces, large patio area with steps into a 11 X 4 meter swimming pool. The property is situated in one of the sunniest provinces in spain, with as little as ten days rain each year. This villa is ideal for those who want a tranquil location and open country side. The only traffic to pass by is the goat hurder and her flock or the occassional walker. Albox is a few minutes drive from the villa, where you will find local bars and places to eat. There is a wide selection of places to eat and drink. Alternatively the coast of vera is only 45.minutes away where you will a vibrant mix of eateries, bars and shops. Inside the Villa The villa has 3 bedrooms, with the master bedroom benefiting from an en-suit. All bedrooms benifit from air conditioning. The Lounge, dinningroom and kitchen are open plan.

Emission Rating: Awaiting details
Energy consumption: Awaiting details
xppacreynt